The Engine Is Running Hot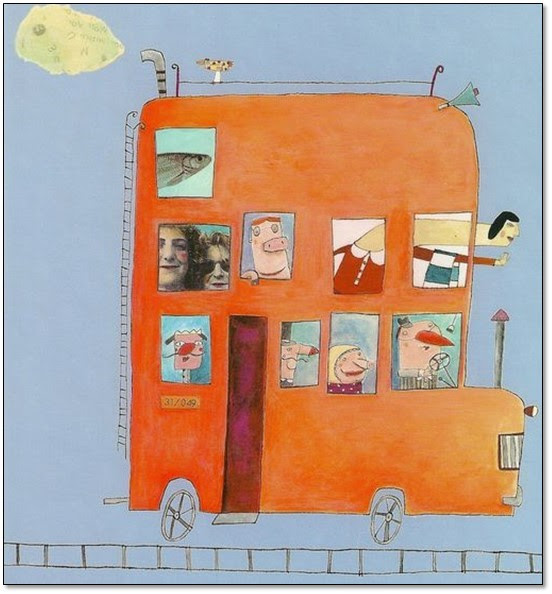 I spent too long looking for one of my favorite poems that I collected and put away a few years ago.  It's written by an unknown author from Ghana, West Africa from the point of view of an anxious bus driver; the bus is full and the engine is fragile.  It just felt right for this week when things 'feel' fragile, and each of us is in charge of driving some type of bus or enterprise or school or church or home.  As I speak to many of you, I see and I hear the calm of your voice.  You are the calm, anchored one.  All the while the talking heads in our media seem to be losing their heads.  And it is true that we are anchored to God in Jesus Christ.  I hope you find this poem as a small bright spot in your day as an anchored disciple of the Lord.
"The Motor Under Me Is Running Hot"
Lord, The motor under me is running hot.
Lord, There are twenty-eight people
And lots of luggage in the truck.
Underneath are my bad tires.
The brakes are unreliable.
Unfortunately I have not money,
And parts are difficult to get.
Lord, "Jesus is mine"
Is written on the vehicle,
For without Him I would not drive a single mile.
The people in the back are relying on me.
They trust me because they see the words:
"Jesus is mine."
Lord, I trust YOU!
First come the straight road
With little danger,
I can keep my eyes on the women,
Children and chickens in the village.
But soon the road begins to turn,
It goes up and down,
It jumps and dances,
The death-road to Kumasi.
Tractors carrying mahogany trunks drive
As if there were no right or left.
Lord, Kusami is the temptation
To take more people than we should.
Let's overcome it!
The road to Accra is another problem.
Truck drivers try to beat the record,
Although the road is poor
And has many holes
And there are many curves
Before we come to the hills
And finally to Akwasim.
Passing large churches in every village,
I am reminded of you, and in reverence
I take off my hat.
Now, downhill, second gear, Lord Jesus.
Artist:  Montse Gisbert, Orange Bus
The Presbytery web site has added a "Covid-19 Resources & Updates" for this pandemic time. I hope it has resources you and church may rely on. I'm trying to include best practices from around the Presbytery and around the country. If you have a best practice to share with our churches please let me know, and I'll try and share either here or Facebook or Twitter as appropriate.
Let us join in prayer:  Rev. Chris Turner has shared that his wife Amy is having surgery to remove a tumor.  Traumatized and overwhelmed initially, prayer requests flew to the Lord above.  Doctors now feel optimistic, and the surgery is slated for March 25th.  Chris has asked us to pray expectantly that the surgery not be considered elective given the priorities now in the pandemic and also that the tumor be benign.  From our lips to God's ear.  All of our love and deliberate prayers for Amy and Chris.  Amen.